As a further commitment to STEM (science, technology, engineering and math) education, Storm Lake St. Mary's High School chemistry students have been working on a real-world application of mixtures, solutions, freezing point depression and STEM careers that use these concepts.
In Dr. Erica Larson's newly renovated Bernard (SMHS '40) and June Christenson Science Classroom/Laboratory, they had a Zoom session with Chef Trevor, to learn how he uses STEM in his profession as he demonstrated how he makes gelato. The students researched recipes to make their semi-solid colloids and suspension to determine the freezing point depression of ice in the presence of rock salt – a.k.a. making homemade frozen sorbet, ice cream and gelato treats in an electric ice cream freezer. The next step will be to determine the properties of each and of course to sample safe, commercially made versions of their frozen mixtures.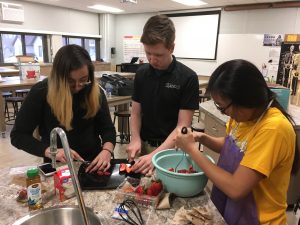 (St. Mary's High School juniors Jaquelin Ocegueda, Keegan McCleary and Grace Murray measure ingredients in the chemistry lab for the real-world STEM application, including freezing point depression)
Enrollment at St. Mary's preK-12 School classrooms is open to Catholic and non-Catholic students where STEM learning is a priority. St. Mary's has invested over $400,000 in K-12 computers, technology and equipment and training in STEM education for staff. Tuition scholarships are available for all students and nearly 98 percent of St. Mary's students receive scholarships to attend St. Mary's School.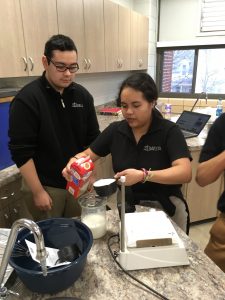 (St. Mary's High School juniors Samuel Gonzalez and Perla Arreguin prepare careful measurements in their high school chemistry class for the STEM real-world application of making ice creams, gelatos and sorbets by calculating freezing point depressions and more)
For more information on the challenging curriculum that prepares our students for college or the scholarships available, contact preK-5 Principal Diane Jones or 6-12 Principal Ryan Berg at 712-732-4166 or check us out at www.stormlakecatholic.com and click on the school tab.