A new campaign got underway last Wednesday, April 10th, as Habitat For Humanity of Buena Vista County is attempting to collect over 1,000 volunteer hours.  The campaign is titled "A Shingle Act of Kindness," and aims to encourage people to support
Habitat for Humanity in Storm Lake by volunteering to help build the next home in Storm Lake this
summer.
To support the local organization, Habitat for Humanity of Storm Lake teamed up with local coffee shops to help people truly understand what it is that they do in the hopes of developing a community of
volnteerism. The three coffee shops that will be host sites for the campaign include HyVee, Grand Central Coffee Station, and Better Day Cafe. By connecting with the community, Habitat for Humanity wants to spread knowledge, increase positivity, and develop volunteerism, specifically within the retirement
population. However, they also emphasize that anyone can sign up to help.
In order to accomplish their goal, Habitat for Humanity has provided the community with the
opportunity to visit the Habitat for Humanity Kiosks and develop discussion regarding the campaign. With home-like structures placed in each location, those interested will be able to fill out pledge cards, or
shingles, which will then be placed on the Habitat for Humanity Kiosks to represent hours pledged.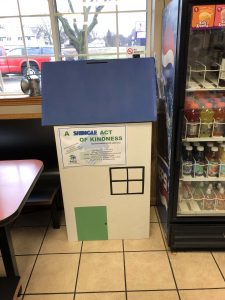 The campaign will run throughout the course of April and wrap up at the end of May. By pledging hours, Habitat for Humanity feels people will have the chance to develop a community of volunteerism. At the close of the campaign, Habitat for Humanity hopes to reach their goal of 1,000 hours in the Storm Lake community.