Registration is open for the 2019 Star Spangled Spectacular Big Parade – the biggest and best Fourth of July Parade and Iowa.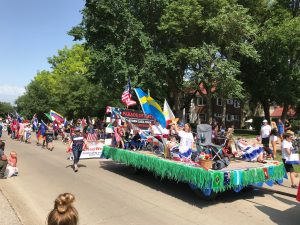 Entrants are encouranged to complete a registration form by June 17. The on-line forms are available at www.starspangledspectacular.net under the Big Parade section. Lee Dutfiled is the committee chairperson. There is no charge to participate in the parade, but there will be an award for the best entry. "Coming Home" is the theme for the Spectacular and for the float themes.
The parade will begin at 10:30 a.m. on Thursday, July 4. Participants will receive a parade letter, lineup time and instructions by June 20. Tossing candy or waterballoons from parade vehicles is not allowed.
Questions for the Big Parade can be forwarded to Dutfield at Storm Lake United at (712)732-3780 or info@stormlakeunited.com.
All Star Spangled Spectacular entertainment is family friendly and free of charge for the Spectacular. Entertainment is funded through private donations.
Information and updates regarding the 2019 celebration are available on the Spectacular's new webpage, www.starspangledspectacular.net, the Spectacular's Facebook page at Star Spangled Spectacular or Twitter @SLSSSpectacular.
For real time alerts, text SPECTACULAR to 51660 for time and location information for Star Spangled Spectacular activities.