Storm Lake, Iowa "STEM and the ARTS Festival" (Science, Technology, Engineering, Math) was hosted by Buena Vista University and Iowa State University Extension and Outreach 4-H Program with support from the Governor's Northwest Iowa STEM Council.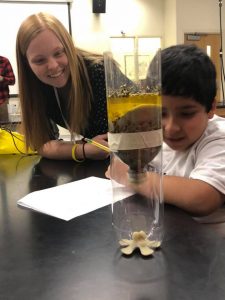 (BVU College student Amelia Evenson leads Joel Benitez-Tello through an activity to understand water filtration at the STEM and Arts Festival)
This event was open to all youth in grades 4th to 8th on Saturday, Nov. 10 from 9 a.m. to 3:30 p.m. at the campus of Buena Vista University. BVU Faculty, area science teachers, industry leaders, Extension professionals and college students offered fun-filled, mind-blowing, STEM-ulating and ART-tastic activities to help area youth experience the exciting applications of science, technology, engineering, mathematics and the arts.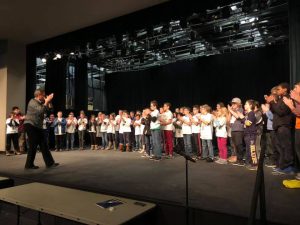 (Over 100 youth from northwest Iowa attended the STEM and Arts Festival hosted in partnership by Buena Vista University, ISU Extension and Outreach 4-H Program and the Northwest Iowa STEM Hub)
One hundred and three youth from across Northwest Iowa attended the STEM and the ARTS Festival. Counties represented include Buena Vista, Cherokee, Clay, Dickinson, Pocahontas and Sac County. Participants were able to choose from many activities including: Aquaponics, Conservation of Amphibians and Reptiles, Freezer Jam, Predator versus Prey, Water Filtration, Engineering Bio-Fuels, Egg Drop Robotics Challenge, Coding with Scratch, Fingerprint Analysis, Techy Bouncy Balls, Composting, Fruit DNA, BBQ Science, Ecosystem in a Bottle, Making Ice Cream, and Your Tongue will Tell – Fruit or Vegetable. The youth that attended said they learned that "reptiles are cool", "the ammonia fish expel is good for plants", "chemicals can be combined to make something new", "the ratio of predators and prey make a difference in the survival of all" and much more!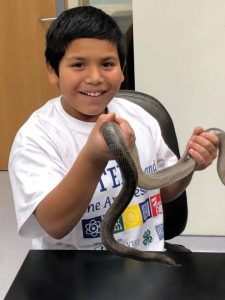 (BVU Professor Bob Brodman shares his passion for reptiles and amphibians with youth at the STEM and Arts Festival encouraging hands-on learning)
To find out more about Iowa State University Extension and Outreach 4-H and Youth Programs contact your local Extension Office. Nichol Kleespies in Buena Vista County at 712-732-5056, Debbie Erpelding in Cherokee County at 712-225-6196, Amy Forrette in Clay County at 712-262-2264, Hannah Brockshus in Dickinson County at 712-336-3488, Lisa Zeman in Pocahontas County at 712-335-3103 or Steph Erpelding in Sac County at 712-662-7131. To learn more about STEM at Buena Vista University contact John Bedward at 712-749-2113. To connect with the Northwest Iowa STEM Hub contact Mary Trent at 712-362-8341.