Storm Lake St. Mary's welcomed home their 2012 alumnus Tyler Munden as their guest speaker for the annual Veterans Day service.
Area veterans were invited to come and be honored and the public was welcome to attend. Munden is a member of the 185th fighter wing of the Iowa Air National Guard and recently returned from a tour in the Middle East. He is also a patrol officer for the Storm Lake Police Department and a graduate of the University of Northern Iowa.
The speaker said that his military and law enforcement experiences made him realize the importance of giving back. He also realized how veterans sacrificed so much "so that everyone can be safe at home." Munden also said that he didn't realize at the time how much his St. Mary's teachers gave while he was enrolled as a student.
"The teachers really give a lot. I didn't appreciate it while I was here," he reflected before challenging the current students to give back. "Even if it is just picking up trash, it won't go unnoticed."
The ceremony also included the announcement of winners of the American Legion essay contest. Chase Hurd earned first place with Sam Peters taking second and Francisco Gonzalez taking third place honors. Hurd's essay was read to the group.
A musical selection was provided for the honorees by the elementary and middle school choir under the direction of Mrs. Gayle Strom. Fr. Timothy Friedrichsen, Priest-President provided the invocation. A history and background of the folding of the flag, a nod to the 100 year anniversary of the end of World War I and Taps were all part of the program.
Active duty military and veterans from the World War II era and more recent were in attendance.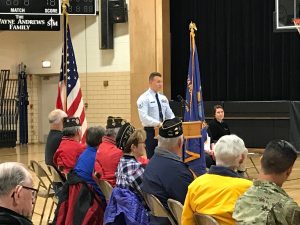 Tyler Munden, a St. Mary's 2012 alumnus, Air National Guard member and Storm Lake Police Officer was the guest speaker at the St. Mary's Veterans Day service.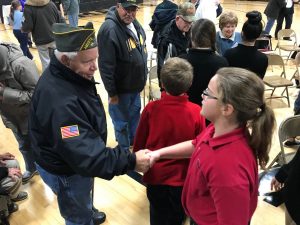 Veteran Lary Gunville is thanked by student Maddie Fiorendino for his service in the military.

Winners of the American Legion essay contest Sam Peters, Chase Hurd and Francisco Gonzalez.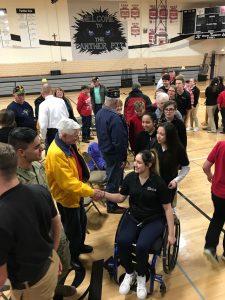 Thanking our veterans. WWII Navy veteran Wayne Andrews was thanked by freshman Andrea Rodriguez.