Storm Lake St. Mary's High School hosted one of Des Moines most prominent business leaders to share his unique life's story and offer advice to the St. Mary's, Alta-Aurelia and Sioux Central High School students.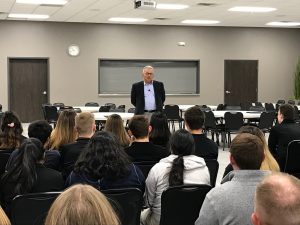 Suku Radia, former CEO of Bankers Trust and former CFO of the Meredith Corporation spoke to the students Wednesday morning about his path to success.
Radia explained he was of India descent but grew up in Uganda as many Indians provided labor for building the railroad construction in Africa. He grew up in the mountains in a very comfortable area to wealthy, traditional Indian parents.
"I thought everyone had servants and lived in perfect weather. Until I came to Iowa," he quipped.
Raised by traditional Indian parents in the 1960s, Radia said he and other Indian teens were not allowed to date, use tobacco or alcohol. Also, most were sent to the United Kingdom for college.
"I really wanted to come to the United States. I was a total nerd. A good student. My brother was an athlete," he said, noting he had his sights set on Berkley, California.
His parents determined Berkley was too liberal for their traditional son and selected London as the location for his higher education. After a turn of events, Radia was able to realize his dream and was accepted to Iowa State University and arrived in Des Moines on a 95 degree August day full of humidity – not the perfect weather of Uganda's mountains at all. And no servants!
"A year later, my family lost everything and was evicted from Uganda," the businessman explained, describing the dictator of the early 1970s. The Indian family had two hours to leave the country – with nothing. They received refugee status in the United Kingdom.
"So I was a man without a country," he declared, noting he no longer had a generous "allowance" from his family. "I had to find a job."
He soon found that Iowans are "the nicest people in the world" and a classmate who lived in his dorm invited him to live with him during the summer. After he declined, the classmate's mother insisted that he stay with the family. He later married that classmate's younger sister – they are still married today.
With the adversity that Radia found himself in – he knew he needed to finish school quickly and find a job. He completed school in eight quarters and had $4.87 to his name, but graduated at the top of his class. He had a job as a CPA for Peat Marwick, Mitchell & Co.
After 25+ years with that firm, he was recruited to be CFO for the Meredith Corporation – a giant publishing company based out of Des Moines. He didn't think he was qualified. His wife convinced him to take the position. Later he was recruited by John Ruan III to be CEO of the largest bank of Iowa. He didn't think he was qualified. His wife convinced him otherwise and he led the company for 10 years.
"Listen to women," he told the young men in the group. "They are a lot smarter. I learned that."
Radia led Bankers Trust through the great recession with his team after starting in 2007, noting "it was rough." They did increase the size of the bank during that time. He was proud of the $1.3 million community investment, 20 percent minority workforce and 70 percent female workforce at the bank. Radia retired a year ago after creating a succession plan. He now teaches in an MBA program at his alma mater.
He has since earned many accolades including being inducted into the Iowa Business Hall of Fame, the OneIowa Business Leader of the Year, has chaired 18 nonprofit boards and numerous awards including the Spirit of Philanthropy Award and Immigrant Spirit Award.
"I believe in the quality of life and giving back. It was never about the money with me," he explained.
Regarding the tough times in his life – he shrugs it off.
"Adversity? We all go through it. It's how you respond it that matters. It's a matter of attitude."
The businessman did not leave without offering advice for the next generation of leaders in the room. In today's world of high technology, don't forget the human element and its importance.
"We always said in the bank it's fine to have high tech, but have high touch. Don't forget human interaction….human feelings are important."
Radia also explained that basic oral and written communication skills are still extremely important in the business world and that young people should continue to build those skills. He urged the students to read as much as they could.
He left the students with the importance of integrity and passion for work and that potential employers will look for those traits in new hires versus grade point averages or where they attended college.
Radia was invited to speak at St. Mary's through a new program dubbed the Buena Vista County Leadership Series developed by former St. Mary's educator Donna Sennert. Des Moines opera singer Simon Estes was also invited to speak at St. Mary's High School last year through the series.
(thanks to Dawn Prosser)