Storm Lake Saint Mary's Schools head custodian Jay Sassman was surprised recently to learn he will be receiving a Good Shepherd Award at the diocesan Bishop's Dinner for Catholic Schools.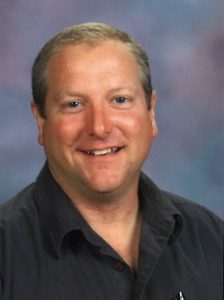 Diocese of Sioux City Superintendent of Schools Patty Lansink traveled to Saint Mary's and attended an all-school assembly to announce Sassman would be receiving the award at the October 21st semi-formal dinner.  He was nominated by Saint Mary's administration. Sassman has served as head custodian for Saint Mary's School and Parish since October 2001.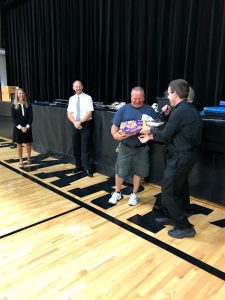 Jay Sassman receives a "bouquet" of candy from school chaplain Fr. Michael Cronin and Fr. Tim Friedrichsen (hidden) Sassman is known for his love of sweets and sharing with the school students.
In his nomination letter, Father Timothy Friedrichsen wrote, "The faculty, administration and staff all respect and appreciate him. The students love him and are always treated with parental-like love by him." Sassman is responsible for the grounds and several school and church buildings and is lauded by his co-workers for his positive attitude, dedicated service and for going above and beyond the call of duty.
Also honored at the dinner will be three Saint Mary's employees celebrating milestone anniversaries… Tracy Schultz with 20 years, and Cindy Pudenz and Kate Swanson, both with 10 years of service to Saint Mary's.