Emily Bodholdt of Storm Lake has been selected as a 2018 Hospital Hero by the Iowa Hospital Association.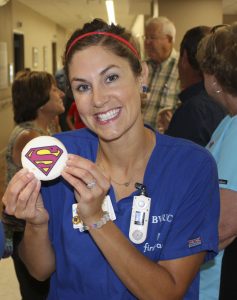 Bodholdt works as a nurse in First Embrace Obstetrics at Buena Vista Regional Medical Center. Every year the IHA awards those committed health care professionals that go above and beyond. Hospitals are asked to submit applications and provide examples of how the individual could be considered a hero. Only ten people were awarded the status this year and they will be honored at the IHA Annual Meeting in October.
BVRMC director of communications Katie Schwint says Bodholdt loves helping parents through the birthing process and making sure that they feel ready to take their child home to start a lifetime of memories.
In 2010 the Storm Lake area daycare center closed, and even though Bodholdt did not use the facility, she worried about all the children and parents that were now in need of proper care. She started to attend community day care meetings and connect with other concerned community members. This eventually led to the formation of the Ready, Set, Grow Learning Center in Alta… with future plans underway to open a second location at Methodist Manor in Storm Lake.