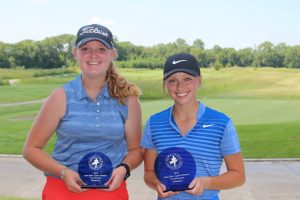 Annika Patton won the (16-18 age division) Iowa Girls' junior amateur golf tournament on the second hole of a playoff yesterday at Coldwater Golf Links in Ames.
After shooting a 73 on Tuesday, Patton carded a 79 Wednesday and was tied with Bailee Frayne who shot rounds of 76-76.  Patton, will be a senior this fall at Alta-Aurelia.
(Patton is on the right in the picture above, along with with runner-up Frayne).