Ridge View's Cassie Allen Crowned State Champion
This past weekend 1750 of Iowa's best archers flocked to Des Moines to compete in the state archery tournament. There were 2 divisions at this year's tournament – Bullseye and 3D. Northwest Iowa flexed its muscle proving to be an elite area in the state for competitive archery. Ridge View's Cassie Allen won the individual 3D championship in the female division, Lawton-Bronson's Adam Larson won the individual 3D championship in the male division, and Sergeant Bluff-Luton High School team was the state runner-up in Bullseye.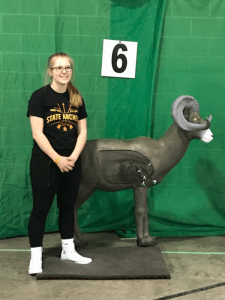 Allen's road to the championship was as intense as it gets in competitive archery. After shooting a personal best 286 early in the day on Saturday, she shot a tournament best 293 in 3D in the afternoon. Last year, a 292 won the tournament. "She was on fire. I was sitting there watching her shots and every round could fit in the size of a silver dollar (there are 5 arrows shot per round for a total of 30 arrows). As she progressed through the flight I had a good feeling she'd be on the podium – which I was ecstatic about, but I didn't realize quite how high her score was," said Ridge View head coach Justin Kinney.
"I was really happy to see that I had made my dad proud after we both knew I shot my best score," Allen said. Cassie said that she wished she could have shared this experience with her grandmother, who recently passed away, and her brother who passed a few years ago. "It hasn't really phased me yet that I'm a state champion. "Winning the state tournament wasn't a thought to be honest. My goal was to come here and shoot my personal best," Allen said. "I just feel like any other tournament. I shot, now I'm home," says Allen.
"As the day went on, I kept updating my phone to see the standings after each flight. I was so happy for Cassie to score a 293, but it's the state tournament and you never know what's good enough. There were a lot of top-notch shooters who had to shoot after Cassie: state champs, national champs, and plenty of kids capable of high score. Last year, the national champion was a kid from Iowa. We were just crossing our fingers to see what would happen," Kinney said.
Allen's name remained at the top of the leaderboard until midafternoon when Makenna Hewitt, of Prairie Point High School in Cedar Rapids, also scored a 293. Allen and Hewitt were tied for the state championship with 4 flights (192 shooters) to go.
When the final flight ended and scorecards were processed, the officials announced that Allen and Hewitt were tied for the state championship and would shoot off in a one-on-one match of five arrows each.
"I felt so excited for these young ladies, but at the same time felt terrible for them! To shoot one versus one, only 5 arrows in front of everyone for the state title is as nerve-wracking as it can be, but I've never seen Cassie more confident," Kinney said.
Allen says, "I wanted her to win just as much as I did. I wish we both could have just been first. I was nervous. When the 5 arrow round was finished I thought I had lost and got second because with her grouping it appeared she shot a 50."
As the officials scored the arrows, everyone waited in anticipation. Finally, the head official announced that with a score of 48 out of 50 possible points, Allen was this year's state champion. Hewitt scored a 44 as her grouping drifted a bit too far to the right.
Cassie has been practicing multiple times a day with her dad, Dale Allen. Cassie's mom joked about how their house has turned into a zoo because they set up an indoor shooting range in their living room.
Cassie was not only crowned female state champion in 3D, but she was also crowned overall champion, which qualifies her for the U.S. regional tournament in Kentucky in May. If she shoots well there, she'll qualify for nationals later this year.
Ridge View High School advanced a total of 10 archers to the state tournament in the 2nd year of their young program. Cassie Allen led the way in both 3D and Bullseye. In Bullseye, she shot a personal best 286. Jaden Droegmiller shot an impressive 271 placing him 28th in the state. Other Ridge View archers' top scores from the tournament include Brant Price (269), Rayann Volkert (267), Lauren Johnson (264), Alexis Clark (257), Cloe Droegmiller (243), Brayden Stowater (241), Jon Madsen (236), and Arianna Parra (227).