Storm Lake St. Mary's Middle School will be presenting "Junie B. Jones is NOT a Crook" by Allison Gregory Friday, March 2 at 7 p.m. and Saturday, March 3 at 2 p.m. in the St. Mary's auditorium/gymnasium.
Attendance is open to the public. Admission is $3 for students and $5 for adults. Ms. Melissa Schwery is directing the play. St. Mary's Fine Arts Boosters organization is sponsoring the production.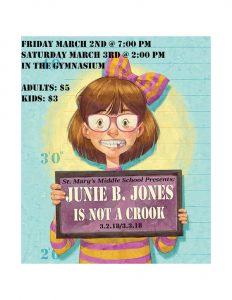 St. Mary's High School student Jake Heitman created the play's promotion poster.