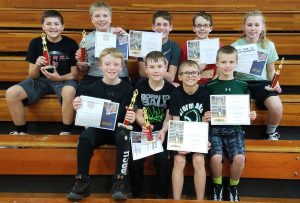 Competition Champions Announcement
Knights of Columbus Crown Free Throw Champions
Five boys and girls from the Storm Lake area, ages 9-14, were named local champions of the 2018 Knights of Columbus Free Throw Championship and have earned the right to compete at the district level. St Mary's Council 2326 in Storm Lake sponsored the local competition at the Panther Pit in Storm Lake. All Youngsters ages 9-14 were eligible to participate.
Nine-year-old boys champion was Cameron Boyd. Sam Sennert was the winner of the 10-year-old boys' division. Carson Lullmann was the champion for 11-year-old boys. Twelve-year-old boys champion was Carter Boettcher. Finally, Crystal Sennert was the winner of the 13-year-old girls' competition. Each contestant was allowed 15 free throw attempts in the contests. Ties, though there were none are settled by successive rounds of five free throws until a winner emerges.
Each of the winners will compete in the district competition to be held on Sunday, February 11, 2018 at Newell-Fonda High School gym with an eye toward moving on to the state and international levels.