Storm Lake Saint Mary's School was honored to have Bishop R. Walker Nickless visit the school Friday afternoon.
The Bishop of the Diocese of Sioux City visited several elementary, middle and high school classrooms, then presided at a K-12 Mass with Fathers Tim Friedrichsen, Jim Smith, and Michael Cronin as well as Deacons Paul Kestel and Rick Rohr. The event culminated National Catholic Schools Week where Catholic schools are recognized for offering a faith-based choice in education.
Storm Lake St. Mary's School opened in 1912 and now offers a preK-12 education where 98 percent of students receive scholarships to attend, regardless of faith background or socioeconomic status.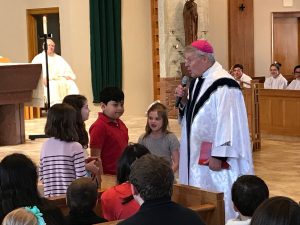 Bishop Nickless talks to a small group of students at the school Mass who explained why St. Mary's "is the greatest school on earth."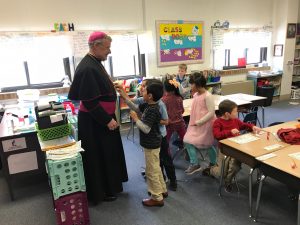 Mrs. Emily Habben's first grade students had many questions for Bishop Nickless, including questions about his pectoral cross and garments. They were not afraid to approach the leader of the northwest Iowa Catholic church.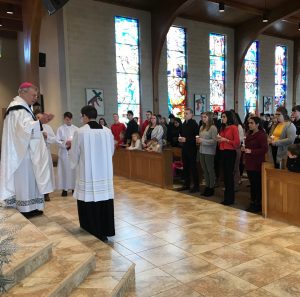 During the school Mass, the bishop blessed the candles held by students as the church was celebrating Candlemas.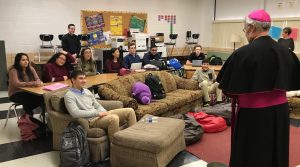 The bishop visited the sophomores in Spanish class and also spoke to them in Spanish.