Storm Lake St. Mary's School held a system-wide food drive for their Catholic Schools Week service project.
The students collected a truckload of non-perishable food products including bottled water, canned goods, peanut butter and Ramen noodles. The St. Mary's Middle School Character Council under the direction of Mrs. Gayle Strom led the efforts. The preK-12 students all contributed food products or funds to purchase food to contribute to Upper Des Moines Opportunity for the food bank.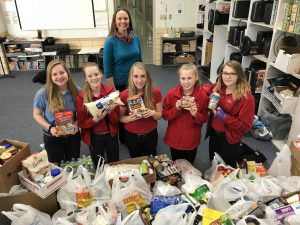 St. Mary's Middle School Character Council members prepare to load bags and boxes of food from their successful Catholic Schools Week food drive include Emily Nothwehr, Danika Demers, Ellie Bacon, Crystal Sennert and Karley Mills. Back – Mrs. Gayle Strom, council moderator.