Four Storm Lake St. Mary's High School speech groups will be advancing to the February 3 State Large Group Competition in LeMars.

The Short Film entitled "The Club," TV News "CNBABCNBC," Readers' Theater "How to Succeed in High School Without Really Trying," and a Group Improv. Twenty of the 22 St. Mary's students participating in the January 20 District Large Group Speech Contest at Storm Lake will be moving on to the state competition. Students competed in eight different speech categories at the district event. The head coach is Deb Peters assisted by Sara Sennert.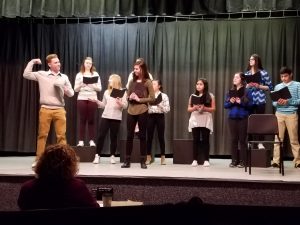 From the Reader's Theater ensemble – Jake Heitman, Jordan Hewett, Abby Jones, Ariana Elsden, Grace Murray, Michelle Arreguin, Johanna Lozano, Evie AlSaffar, Francisco Gonzalez (Not visible- Alondra Melendez). / courtesy of Deb Peters.