Storm Lake St. Mary's High School National Honor Society members coordinated the 2017 St. Mary's Parish Advent Angel Tree thanks to assistance with the Thrivent Action Team.
This is the third year the students have spearheaded the parish service project. The students contacted Upper Des Moines Opportunity for a wish list from needy families in the area. The students created individual card ornaments for each gift requested, and decorated a Christmas tree in the church lobby. Parishioners were invited to take an ornament and return the wrapped gifts for the families the following week.
Students purchased extra gifts if needed, and wrapped gifts if necessary. They organized and assembled the packages into large bags for each family. Over 200 gifts for 11 families were collected through the effort and delivered to UDMO.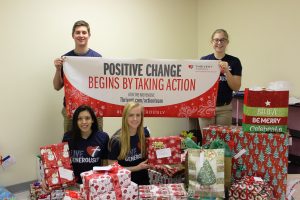 The Thrivent Action Team helped to purchase supplies for the project including cards, paper, large bags and boxes, wrapping paper and additional gifts. Thrivent also provided #LiveGenerously t-shirts for the students. Students pictured include front – Alexis Huddleston-Monroy and Olivia Schaller. Back – Josh Feltner and Abby Jones. The National Honor Society moderator is Mrs. Diane Frank.