Although their terms of office won't begin until January first, Storm Lake's two new city council members and mayor were given the oath of office Monday afternoon.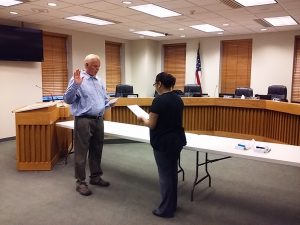 Dan Smith receives oath of office from city clerk Mayra Martinez.
Newly-elected council members Dan Smith and Jose Ibarra were sworn-in, along with mayor-elect Mike Porsch.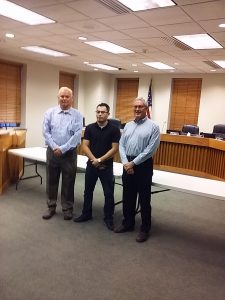 New council members Dan Smith, Jose Ibarra; Mayor Mike Porsch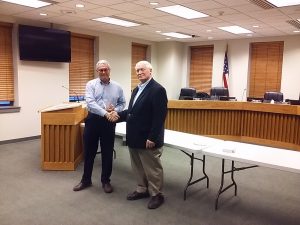 Mike Porsch with outgoing mayor Jon Kruse
The city council approved resolutions thanking outgoing council member Porsch and Dan Anderson for their service during their two terms on the council. Also approved was a resolution thanking mayor Jon Kruse for his 18 years in office. Kruse thanked the council, city staff, and the people of Storm Lake for their support over the years. He noted during the past 18 years, the city has grown and expanded, with a lot of people working together. Before becoming mayor, Kruse served on the city council for ten years.