Storm Lake Hy-Noon Kiwanis recently made a donation to Upper Des Moines Opportunity in Storm Lake.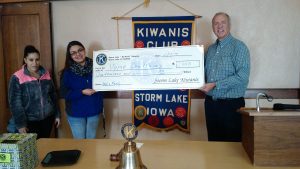 Club President Dan Anderson presented a one-thousand dollar check to Maggie Reyes of UDMO prior to the Hy-Noon Kiwanis weekly meeting on Monday of this week at Lake Avenue Lounge.  The donation goes towards the annual Adopt-a-Family program during Christmas time. 
The money was raised throughout the past year by club members making weekly donations at each meeting in its 'Happy Dollar' box.