Nine Buena Vista County 4-H members have received state recognition for their target scores in the Iowa 4-H Shooting Sports Winter Postal March in the category of Small-bore Rifle.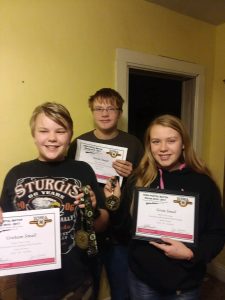 Those individuals include Evan Archer, Emily Arnts, Ethan Arnts, Matthew Arnts, Izzy Sievers, Graham Small, Greta Small, Glenn Small, and Abbie Watts. They are all members of the BV County 4-H Shooting Sports Club. The youth members submitted postal march target shots over five months, with the top three recorded scores being compared with the scores of youth from across the State of Iowa.
The Buena Vista 4-H Shooting Sports Club focuses on safety and education in shooting sports, using the skills, and disciplines of shooting to assist young people in obtaining knowledge and developing life skills.
Applications for new members are currently being accepted. Youth in 4th through 12th grade are encouraged to apply by Friday, December 15th. Contact the Buena Vista County Extension Office in Storm Lake.