Storm Lake St. Mary's Middle School Mock Trial team will be advancing to the state competition in Des Moines November 27th through the 29th.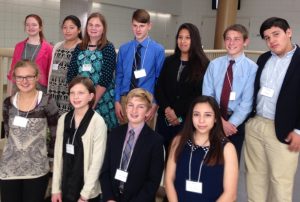 (Pictured front – Erica Pedersen, Autumn Wunschel, Lane Carlson and Venus (Lupita) Gonzalez-Hernandez. Back – Bethany Pariseau, Melanie Rosales, Jenna Merten, John Heitman, Fatima Cortez, Avery Fetrow and Alexander Murray. Not pictured is Leslie Bermudez-Cruz)
They competed in the regional event on Tuesday of this week in Sioux City, and won the event to qualify for State competition. Their attorney coach is John Murray and moderator is Laura Anderson.
The team practiced for several weeks and prepared for both the prosecution and the defense. The participants assumed the roles of witness and attorney. Their case was the State of Iowa vs. Baskin Robinson regarding a first degree robbery and murder.