Seven Storm Lake St. Mary's middle school students will participate in the Northwest Iowa ICDA seventh and eighth grade Honor Choir in LeMars Tuesday, Nov. 7.
The students have been rehearsing four pieces of music with their instructor Mrs. Gayle Strom and will join students from other area schools for a mass rehearsal and then a concert that evening.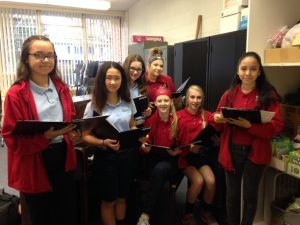 Students representing St. Mary's this year include from left – Bianca Limones, Elly Richardson, Jennifer Lindgren, Karley Mills, Danika Demers, Ellie Bacon, and Maria Mendoza.