Dakota Access Pipeline is donating 20-thousand dollars to emergency management agencies in each county where the pipeline is located.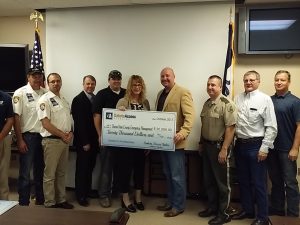 Buena Vista County emergency responders accept check from Dakota Access.
Energy Transfer vice president Mike Futch Thursday morning presented checks to Lyon, Sioux, O'Brien, Cherokee, Buena Vista, and Sac Counties. Futch says similar donations are being made to the other counties in Iowa Thursday afternoon and on November second.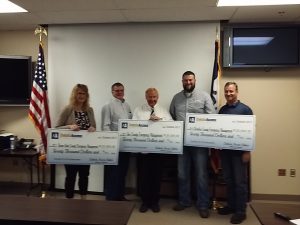 Counties receiving checks includes Buena Vista, Sac, and Cherokee.
Funds will be used to purchase new supplies in each county for emergency responses.
Buena Vista County emergency management coordinator Aimee Barrett says new equipment will be purchased with the 20-thousand dollar donation… including four-gas monitors, absorbant materials, protective equipment and radios. She says the equipment will be used by the departments for other incidents and accidents, not just pipeline incidents.
Dakota Access is making similar donations to county emergency management agencies across its four-state route, totaling one-million dollars across 50 counties in North Dakota, South Dakota, Iowa, and Illinois. They are also giving 90-thousand dollars to the Iowa 4-H Foundation and the Iowa FFA Foundation.