Storm Lake Saint Mary's School has announced that Seth and Etta Smith will be co-chairing the March 17th Saint Mary's Ball and Charity Auction with chairs Andy and Lisa Hurd.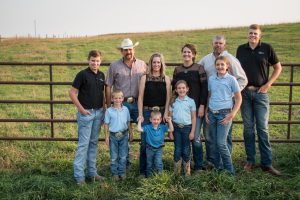 Seth and Etta Smith are joining Andy and Lisa Hurd to chair the 2018 Storm Lake St. Mary's Ball and Charity Auction. Pictured in front – Chase Hurd, Lane Smith, Levi Smith, Skylar Smith and Sydney Hurd. Back row – Seth Smith, Etta Smith, Lisa Hurd, Andy Hurd and Will Hurd.
The gala event is the single largest fundraiser of the year for the local Catholic preK-12 School. It will be held in the Siebens Forum on the Buena Vista University Campus in Storm Lake. Attendance tickets will go on sale in January 2018.
The Smiths are owners of Coon River Farms, Inc., cattle, organic and conventional grain producers. They are the parents of three children. Andy and Lisa Hurd co-chaired the 2017 ball and now take the lead with the Smiths.  Andy runs of M-and-A Farms while Lisa is secretary for M-and-A and works for Rosene, Pickhinke and Peters during tax season. They are also the parents of three children.
Funds will be raised through a live and silent auction, dinner ticket sales, sponsorships, a funded item and 100-dollar Big Raffle ticket sales towards a ten-thousand dollar grand prize. Last year's event raised 147-thousand dollars to help operate the local Catholic School. Members of the community, alumni, parents, parishioners and friends supported the ball and auction.