The entire student body staff and faculty of Storm Lake St. Mary's participated in the Healthy Walk Iowa Wednesday, Oct. 4 and walked a mile from the school around Chautauqua Park to stress activity and fitness.
After a blessing from school chaplain Fr. Michael Cronin, everyone left the school playground – the youngest students hand-in-hand with older students or faculty members. Fortunately, Mother Nature participated with sunshine and calm winds.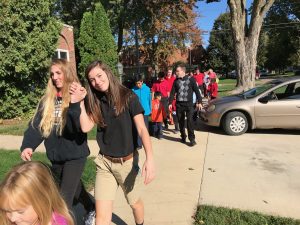 Elli Jensen and Ariana Elsden mug for the school camera on the Healthy Walk Iowa Wednesday as they keep an eye on the younger students.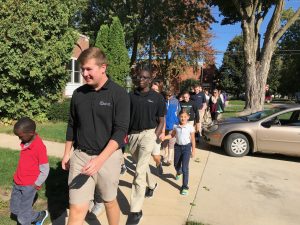 Kuech Deng, Zack Brown, Chakouthchok Malou, Lizzie Lenhart, Mrs. Diane Frank, Peyton Phelps, Skylar Smith, Vivian Keenan, Kendall Snyder, Cole Keenan, Jonathan Gonzalez and Mrs. Whitney McKeever participate in the Healthy Walk Iowa Wednesday.