In recognition of Constitution Week, Storm Lake St. Mary's School eighth grade students signed the Constitution Week Proclamation Pledge with 6-12 Principal Cindy Cone courtesy of the Buena Vista Chapter of the Daughters of the American Revolution.
In 1955, the DAR petitioned Congress to set aside September 17-23 annually to be dedicated for the observance of Constitution Week. The resolution was later adopted by Congress and signed into public law on August 2, 1956 by President Dwight D. Eisenhower. The goals of the celebration are to:
– Emphasize Citizens' responsibilities for protecting and defending the Constitution
– Inform people that the constitution is the basis for America's great heritage and the foundation for our way of life.
– Encourage the study of the historical events which led to the framing of the Constitution in September 1787.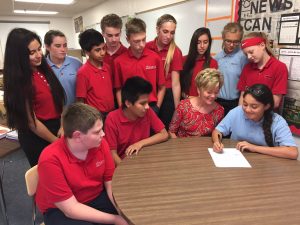 Above, Emily Gonzalez is show signing the pledge as Mrs. Cone looks on. Also seated at the table are Alex Merten, far left and Andy Cortez, who also signed the pledge. Back row – Karina Lopez, Jennifer Lindgren, Alexander Castro, Tanner Fiorendino, Mason Laven, Ellie Jensen, Andrea Rodriguez, Erika Peterson and Danika Demers.