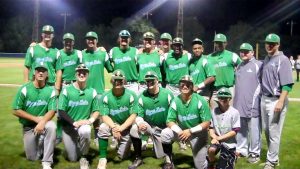 The first Storm Lake Whitecaps baseball season in 77 years culminated in an 8-5 Pioneer League Championship Game win at Carroll on Friday night.
Christian Montero put the Caps on the board with a 2-run homerun with 2-outs in the top of the 1st.  Carroll would tie the game with 2 runs in the bottom of the 1st.
In the bottom of the 4th, a 2-out RBI single put the Merchants up 3-2.
The score stayed that way until the 7th, when Storm Lake took the lead for good with 4 runs.  With Casey Berg on 1st, Christian Pena singled, and an error allowed Berg to score the tying run.  Montero singled to drive in Pena to put the Whitecaps up 4-3.  Another Merchants error on a steal attempt led to another run, and Eze Encarnacion's sac fly plated Blake Whitecotton to push the lead to 7-3.
Montero drove in his 4th run of the game with a RBI single as part of a 2-run 8th.
The Merchants rallied in the 9th, scoring twice and loading the bases with 2 outs, until Cade Moring got a groundout to wrap it up.
Spencer Wyant got the win, as the Whitecaps starter went 8 2/3 innings, allowing 7 hits.
The Whitecaps had 10 hits, and the Merchants tallied 8.  The Merchants were plagued by 5 errors.
Storm Lake's league title season ends with a 20-14 record.  Carroll, who finished 1st in the regular season standings, also finishes with a 20-14 mark.
Whitecaps manager Nic Seaman talked after the game…