Iowa State University Extension and Outreach Buena Vista County hosted 2 babysitting clinics for 44 youth participants on Tuesdays, June 6th & 13th.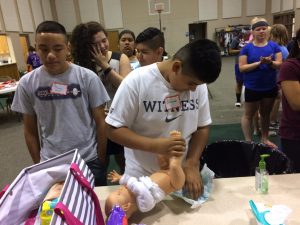 (Jimmy Segoeia observes as Isaiah Segoeia practices diapering an infant doll)
Future babysitters learned important skills needed for the age appropriate care of children. Nurse Twyla Kleen taught basic CPR and First Aid, Nurse Tracy Terry provided a hands-on diapering experience and shared best practices for infant care, and interactive sessions about nutritious snacks & meals, home alone safety, and toys & games for each age and stage was led by 4-H Youth Educator Nichol Kleespies.
Participants for the communities of Alta, Albert City, Galva, Marathon, Newell, and Storm Lake attended the babysitting clinic. Youth identified several things they learned during their time together. Alexander Murray said he would be comfortable trying to help a choking baby. Ellie Bacon shared her plan for reading to young children using her sock puppet. And Lucy Gunkelman said she knew the important steps to get children out of a burning building. According to Nichol Kleespies, 4-H Youth Educator and coordinator for the clinic, "The youth attending the Babysitting Clinic will leave better prepared to care for young children, but also better prepared to stay home alone or to help a community member with a medical need."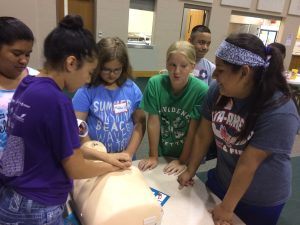 (Sabrina Rivera practices chest compressions as Bianca Hernandez, Maddie Fiorendino, Madison Theisen and Angela Lopez help count the cadence of 30 compressions for CPR)
ISU Extension and Outreach-Buena Vista County provides a wide variety of fun, educational opportunities for youth. Upcoming summer programs and day camps include: Robotics, Biogenetics, Crime & Spy Science, Race It-Fling It- Fly It, Painting, Clover Kids and Food Preservation. For more information, contact the ISU Extension Office in Buena Vista County at 732-5056 or find the registration form on the extension web site at www.extension.iastate.edu/buenavista .