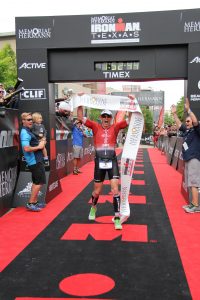 (photo courtesy of Zo Mendoza)
Saturday April 20th Storm Lake's Matt Hanson won the Memorial Hermann Ironman North American Championship Texas in a record time of 7 hours, 52 minutes, 44 seconds eclipsing his previous best time by 15 minutes. Hanson, a 2007 Buena Vista University graduate and adviser in the University's exercise science department, will now continue to train in preparation for the World Championships which take place this October in Hawaii.
KAYL sports director Chris Boeckman had a chance to visit with Hanson about winning the race, his work ethic, and his Ironman future.