The 2017 Buena Vista County Pork Queen and Miss Pigtails were introduced during the Buena Vista County Pork Producers annual banquet Saturday night.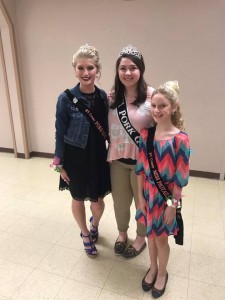 2017 BV Pork Queen Carli Crau, 2017 Iowa Pork Producers Queen Clare Conely of Cherokee, 2017 Miss Pigtails Nora Peterson

The Pork Queen is Carli Grau… daughter of Shannon and the late Gordon Grau… and a senior at Newell-Fonda High School. Carli says she's had a opportunity for hands-on work with the pork industry and thanked the producers for the special swine competition at the Buena Vista County Fair. Carli says she's excited about the next year as county pork queen.
The 2017 Miss Pigtails is Nora Peterson, the daughter of Tim and Kathy Peterson. She is in fourth grade at Alta-Aurelia.