Storm Lake St. Mary's Schools received a $1,250 grant from the Wal-Mart Foundation in order to purchase seven document cameras to be used from kindergarten through high school classrooms.
The technology allows all students to see hands-on demonstrations, documents, handwriting demonstrations, manipulatives, experiments and many more applications projected onto a screen in the classroom.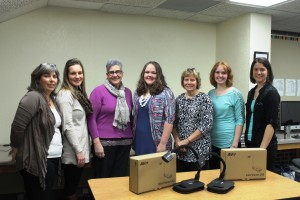 Pictured from left are Angie Siefken, Whitney McKeever, Julie Pedersen, Allison Lange, Heidi Larsen, Amanda Stuhr and Erin Wiley, who all received new document cameras to use in their classrooms this week.
-30-