Former U.S. Secretary of Defense Leon Panetta was at Buena Vista University Friday… meeting with students in the afternoon… then giving the William Siebens American Heritage lecture Friday night.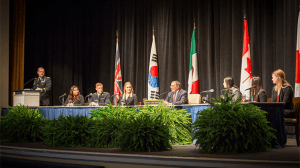 (Picture supplied by Buena Vista University)
Panetta blamed a partisan culture in Washington that has gridlocked Congress and put the nation at a standstill. Panetta said congressional redistricting has left safe seats for both parties… special interests have taken over Washington… and that's led to little getting done. He noted there's agreement that the nation's infrastructure needs repairs… but instead of enacting some sort of sacrifice like a gas tax to boost revenues, nothing is done.
Friday afternoon, six Buena Vista University students participated in an on-campus question and answer program with Panetta. The students were selected through a competitive process. The afternoon session was followed by the formal evening lecture to invited regional leaders in the fields of business, law, politics, education, and religion.
Panetta was the 23rd Secretary of Defense… serving under President Barack Obama. He also served as director of the Central Intelligence Agency from 2009-11 and was Chief of Staff to President Bill Clinton from 1994-97.