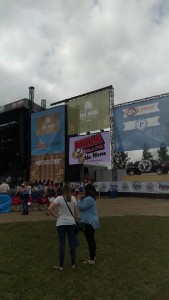 Summer 2016 is here and the Moose is having a ton of fun!! Memorial Day Weekend we were at Tree Town Festival- on the big screen with our logo, backstage interviews with Tucker Beathard, Kelsea Ballerini, Chris Janson and Jana Kramer and tons of video and pictures!
LakeFest 2016 was held in Storm Lake on June 11 and was a blast to be at!! LoCash absolutely thrilled the audience with their high energy show but Jordan Davis stood out as the up and coming star to watch. Sara Morgan was also onstage and played a great set as well.
All summer long the Moose will be giving away tons of cool stuff and we want YOU to be a winner!! Listen for free ticket give aways to these cool concerts: Dierks Bentley, Randy Houser & Tucker Beathard at Tyson Event Center; River Ruckus, CreekFest, Chris Stapleton at the Hard Rock; Dwight Yoakam- the list goes on and on!!
Also be sure to like and follow our FaceBook page: www.facebook.com/moose929 the next few weeks as we will have VIP PACKAGES for RIVER RUCKUS and CREEKFEST!!!
92.9 THE MOOSE- YOUR CONNECTION TO FUN ALL SUMMER LONG!!!