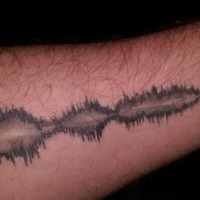 It was recently revealed that 82% of Americans 21 and over that were surveyed felt that tattoos were not as rebellious as they once were. 
Tattoos are now considered by many to be an everlasting expression of one's self. Some choose to honor lost loved ones, some support their favorite sports teams and others might decide to show their faith. There are so many different reasons that lead people to use their body like a canvas.  Let's be honest…some of the ink on display today isn't that thought out. In fact some of the ink is the result of a few too many drinks.
Just having tattoos generally isn't much of a problem. Visible tattoos in the workplace are an issue for some companies. Luckily our parent company has not had any issues with visible tattoos. I generally wear long sleeves at work and push up my sleeves so that the cuff resides just below the elbow. In doing so both of my inner forearm tattoos are visible. Clearly, the type of workplace plays a big role in acceptance. Considering I stand in a room by myself for 4 hours a day, visible tattoos have never been a problem.
What are your thoughts on visible tattoos in the workplace?