…WIND ADVISORY REMAINS IN EFFECT UNTIL 1 PM CDT SATURDAY AFTERNOON…
* TIMING…STRONG NORTHWEST WINDS WILL PUSH ACROSS THE AREA EARLY
THIS MORNING…AND SHOULD DIMINISH TOWARD MIDDAY.
* WEATHER CONDITIONS…NORTHWEST WINDS WILL AVERAGE 25 TO 35 MPH
WITH OCCASIONAL GUSTS OF 35 TO 45 MPH.
PRECAUTIONARY/PREPAREDNESS ACTIONS…
A WIND ADVISORY IS ISSUED WHEN SUSTAINED WINDS ARE FORECAST TO BE
31 TO 39 MPH OR GUSTS WILL RANGE BETWEEN 46 AND 57 MPH. WINDS OF
THESE MAGNITUDES MAY CAUSE MINOR PROPERTY DAMAGE WITHOUT EXTRA
PRECAUTIONS. MOTORISTS IN HIGH PROFILE VEHICLES SHOULD USE
CAUTION UNTIL THE WINDS SUBSIDE.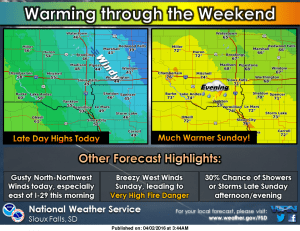 Chilly air will hang on for another day, especially in areas east of Interstate 29, where gusty north-northwest winds will make it feel even colder through today. Warmer air will begin to spread into the region through tonight, though, and most locations should see temperatures climb 15 to 20 degrees higher on Sunday. The warmer air, along with breezy westerly winds will lead to a very high fire danger Sunday, followed by a chance of showers or isolated thunderstorms moving through the region Sunday night.