The 2016 Buena Vista County Pork Queen and Miss Pigtails were introducted Saturday night during the BV Pork Producers annual banquet.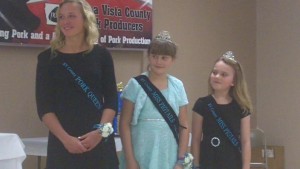 2016 Pork Queen Jenny Sievers; Miss Pigtails Leah Bean, Allison Ehlers.
The Pork Queen is Jenny Sievers… a junior at Sioux Central High School and daughter of Trent and Jill Sievers. There are two Miss Pigtails… Leah Bean, in third grade at Albert City-Truesdale and daughter of C.J. and Christine Bean… and Allison Ehlers, in fourth grade at Sioux Central and daughter of Mike and Michelle Ehlers.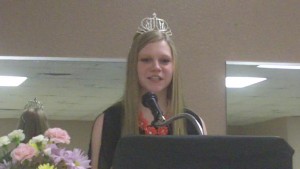 2015 BV Pork Queen Brea Baumhover
It was also fairwell for the 2015 Pork Queen, Brea Baumhover, a senior at Storm Lake High and daughter of Bryan and Leann Baumhover. Brea said a highlight of the year was RAGBRAI… where she had to explain pork burgers to some bike riders… while some of them asked her how she became the "queen of pigs."
There were three Miss Pigtails in 2015. Joelle Arnts, in fifth grade at Alta and daughter of Bernard and Peg Arnts. Joelle says a highlight was being in many parades… including Schaller Popcorn Days, Newell Pride Days, and Tall Corn Days in Sioux Rapids.
Ashley Hinkeldey, in fourth grade at Alta and daughter of Carey and Paula Hinkeldey, liked visiting Second grade classrooms at schools in the county, talking to the students about Pork Month.
Madison Theisen, in fifth grade at Alta and daughter of Fred and Jodi Theisen, had fun the Fourth of July… including riding in the parade and serving pork burgers.
Also during the Pork Producers Banquet, outgoing president Doug White was presented with the Hog Wild award, and his wife Allison, the Belle Ringer award. Hoffman's received the merchandiser award.