The new logo for the Young Professionals of Storm Lake was unveiled on Wednesday during a
Storm Lake United Business After Hours.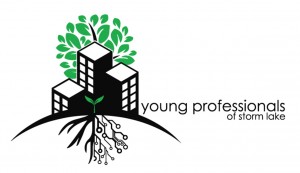 The new logo was designed by Nick Serianni of Serianni Designs. The logo was submitted as part of the Young Professionals logo design contest that ended on May 15th. Serianni received a certificate and fifty dollars of Storm Lake United Bucks for his winning logo design.
Young Professionals of Storm Lake is a newly formed organization that was created to bring together the region's young business people, ranging in ages from 20 to 35, for networking and socializing.
The next Young Professionals meeting will be on August 20th, with more details to come. To stay up to date with the Young Professionals of Storm Lake, visit their Facebook page, or contact Storm Lake United.