The 13th Buena Vista County Habitat for Humanity home was dedicated Thursday afternoon.
The homeowner is Ashley Wolf… a lifelong Storm Lake resident… and her daughter, Naomi. She has put in over the required 200 volunteer hours, along with her fiance, Dylan Tornabane. The house is located at 522 Terrence Street in Storm Lake.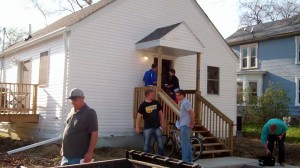 Habitat board chair Reverend Charles Valenti-Hein says work began on the house at its former site in the 400-block of Terrence. Buena Vista University owned the house, but determined that had no use for it. The lot at 522 Terrence was donated to Habitat.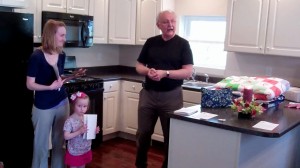 Ashley and Naomi with Valenti-Hein
Sarah Brown directed the extensive demolition of the interior before it was moved last summer… and Pat Morgan took over as construction manager of the remodeling. Over 140 volunteers participated.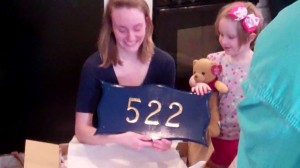 Ashley and Naomi open gift at dedication
With the completion of the project, Wolf will take responsibility for the house, including a 20-year mortgage.
Habitat is now working on two other projects… rehabbing a house on Tulip Lane… and moving a house into the new Oneida subdivision being developed by the city.