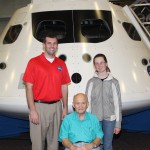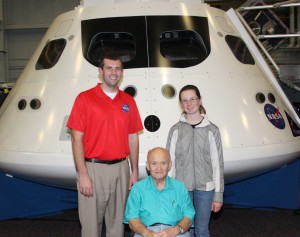 (Jordan Menning (NWAEA), St. Mary's High School junior Meaghan McCleary, and Norman Chaffee (retired NASA engineer and program supporter…credit : Dawn Prosser)
Storm Lake St. Mary's High School junior Meaghan McCleary, participated in the 2015 Space Settlement Design Competition on March 12-15.  McCleary traveled to Houston, Texas to participate in this NASA sponsored competition.
The Space Settlement Design Competition is an exciting industry simulation set in the middle of the 21st century.  The competition emulates the experience of working as a member of an aerospace company team, developing a design and operations proposal for a settlement on the planet Mercury.  Requirements for the proposal are complex, challenging and exciting, and require imaginative and innovative approaches and solutions.
Students with a variety of skills are teamed with other students to form four competing student "companies."  Each "company" is provided with a professional NASA or industry manager to serve as the company's CEO.  The winning team may send 12 students to the International SSDC Competition in July to Houston.  McCleary was a member of this year's winning team, and is an alternate for the International Competition.
The Space Settlement Design Competition is sponsored by Northwest Area Education Agency. The purpose of this competition is to promote science, technology, engineering, and mathematics to high school students. The competition gives students the opportunity test out the idea of following a career path toward any of the STEM areas, particularly engineering.  The students are given VIP treatment throughout Johnson Space Center and receive special tours of the center's facilities.