David Wiley of Newell stepped down from chairman of the BV County Sold Waste Board in December, after serving since 1982.

David Wiley, 91 from Newell retired in December as chairman of the board of the BV County Solid Waste Board. He was honored for his service at the regular monthly meeting of the board last Thursday, held at the Harold Rowley Recycle Center. Wiley served as a representative for Newell since 1982 and had been the chairman from 1990 through his retirement last December.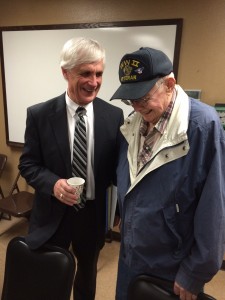 This picture is of the solid waste commission's attorney Gary Armstrong (left), who has served the board even longer than Dave (right), talking a little history of the people serving the board with outgoing chairman David Wiley. Current board chairman Eric Mosbo says they had a cake, coffee and some time devoted at the beginning of the meeting for Dave to reminisce about his history of service to the board.