Lt. Governor Kim Reynolds recently made a visit to Storm Lake on Friday afternoon to lead a roundtable discussion with local business women to highlight their vital role in the community.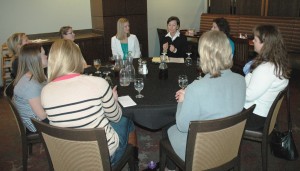 This visit was part of Reynold's "Stories of Women's Lives" tour for Women's History Month. At the roundtable discussion, various topics were discussed including the barriers that women face and how important it is for today's youth to have positive mentors to guide them to success.
Reynolds also stressed the STEM (Science, Technology, Engineering, and Math education) initiative and how females are underrepresented in the STEM related fields. In order to increase participation in STEM, Reynolds recommended the Million Women Mentors program, which uses volunteer mentors to advance women and girls in STEM careers.