Nine Storm Lake High School physics students will participate in a regional physics competition on Thursday.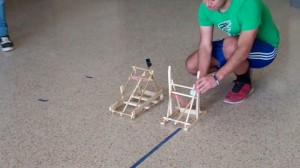 Physics teacher Jay Grimes says the students each designed and built a project. The projects include catapults using rubber bands for propulsion… cars with cds for wheels… and bridges made from toothpicks. Grimes says the students have been working on the projects in class for over two weeks.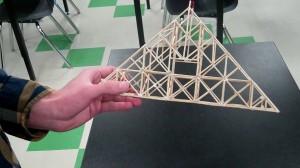 David Tucker has been working on a bridge made with toothpicks and held together with Elmer's glue. Grimes says when the strength of David's bridge is tested in the competition, it will be destroyed… and he will have to build another bridge if he goes on to the state competition.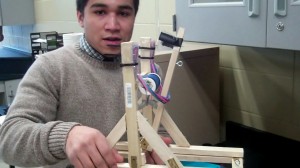 Juan Morales designed a catapult, which slings a ping pong ball.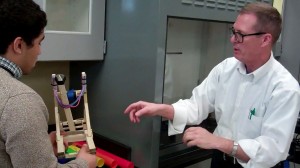 Grimes helped Juan make some adjustments to the catapult during class Tuesday morning.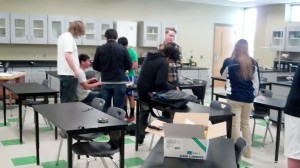 Winners of the regional competition at Iowa Lakes Community College in Estherville on Thursday may go on to the state physics competition at the University of Northern Iowa.
Students with projects in the competition are: Juan Morales, Jesus Cano, Kenny Chavez, John Funk, Vu Nguyen, Luis Nolasco, Jacob Stevenson, David Tucker, and David Valtierra.