Storm Lake St. Mary's Parish broke ground Sunday morning on a new 14,000 square foot addition to the west of the church building.
The $2.6 million addition will include a dedicated parish center/hall, kitchen, meeting rooms, and parish offices. St. Mary's has never had a dedicated parish hall and kitchen in its history. The building project stemmed from 2010 parish long-range planning meetings.
Fundraising kicked off in the spring of 2013 for the Growing Our Faith project under the direction of then-pastor Fr. Bruce Lawler and campaign co-chairs Tim and Carrie Brown and Jim and Terry Foell. Construction by H & R Construction of South Sioux City, Neb., will begin shortly with tentative completion at the end of 2015.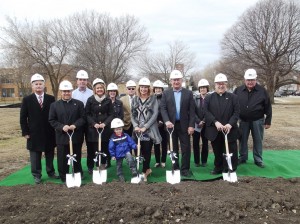 The Growing Our Faith Steering Committee members and clergy prepare to turn the first shovels of dirt for the long-awaited parish center project. >From left: Tim Brown, Fr. David Esquiliano, David Drey, Carrie Brown, Ellen Smith, Paul Foell (grandson of Jim and Terry Foell), Mary Drey, Steve Hamilton, Terry Foell, Diane Hamilton, Jim Foell, Ellen Smith, Pastor Fr. Timothy Friedrichsen and Fr. Jim Smith. Not pictured is Dr. Mark Smith, Tom and Susan Fitzpatrick and Dan Connell.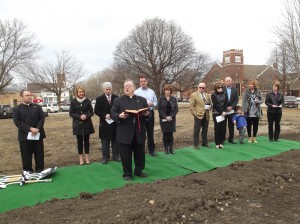 Pastor Fr. Timothy Friedrichsen leads a brief prayer service and blessing for the construction site after the 10 a.m. parish mass.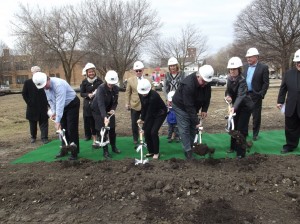 Steering committee members David Drey, Mary Drey, Diane Hamilton, Fr. Jim Smith and Ellen Smith lift dirt at the ceremony.