Although this winter's cold weather makes the Fourth of July feel like a long ways off, the Storm Lake Star Spangled Spectacular Committee has been hard at work planning for the 2015 July 3 and 4 family-friendly celebration.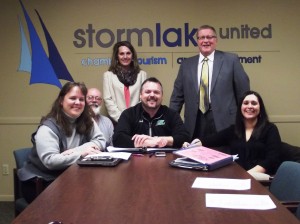 Members of the 2015 Star Spangled Spectacular Committee have been planning for July third and fourth's "Freedom, Family and Fun" celebration.
Pictured from left: Jennifer Hecht, food booths; Orren Knoffloch, fireworks; Dawn Prosser, publicity, Matt Phillips, commodore; Mark Prosser, public safety; Ana Phillips, commodore.
Commodores Matt and Ana Phillips have announced the theme, "Freedom, Family and Fun" for the 2015 Spectacular. The commodores and the committee felt that the theme represented the spirit of the spectacular and that this theme would easily be conveyed in parade floats and button contest designs.
        The committee is finalizing entertainment in order to showcase a slate of new and traditional favorite acts.
Information and updates regarding the 2015 celebration are available on the Spectacular's Facebook page at Star Spangled Spectacular or Twitter @SLSSSpectacular. Storm Lake United's webpage www.visitstormlake.com also has information on the Spectacular.