U.S. Senator Joni Ernst brought her 99-county Iowa tour to Storm Lake Thursday morning… where she toured and met with the staff of Centers Against Abuse and Sexual Assault.
Ernst said protecting victims of domestic violence has always been important to her… and she was glad she could make the stop at CAASA's Storm Lake office. Ernst said she was involved in helping domestic violence victim while in college… and volunteered for a women's shelter for two years.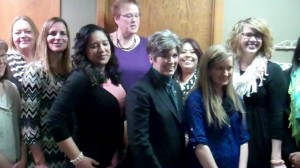 CAASA staff members told Ernst about their needs, including continuation of adequate funding.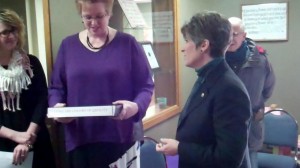 Ernst presented CAASA with a flag that's flown over the U.S. capital. Also Thursday morning, Ernst toured the VT Industries facility in Sac City.