A Storm Lake High School student attended the Iowa Youth Congress annual lobby day last week at the Iowa Legislature in Des Moines.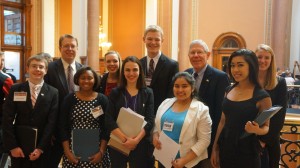 Members lobbied legislation supporting college campus sexual assault reform , police body cameras, and hands-free driving. Naomi Marroquin of Storm Lake was among those involved in the lobbying process.
Iowa Youth Congress is a program administered under the Iowa Department of Human Rights. It allows up to 100 students belonging to underrepresented groups across Iowa make their voices heard. Specific skills attained include public speaking, problem solving, and active participation with regional meetings, community relations, and gaining comfort in multicultural leadership settings.
The students meet to discuss and formulate bills about issues that they feel are pressing to youth in their communities at regional meetings in August and reconvene in October at the Iowa State Capitol to present their bills to Iowa legislators.