Two Storm Lake St. Mary's students will be participating in the 34th Annual Buena Vista University Honor Band Festival on February 28 in Storm Lake.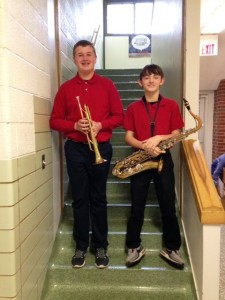 Zack Brown (left) on trumpet and Dawson Miller (right) on tenor saxophone will be learning several pieces of music and will join over 100 other middle school students as part of the honor band.
Over forty school districts are participating in this year's festival and include schools from Iowa and Nebraska.  Both the middle school and high school bands will perform a grand finale concert in Schaller Memorial Chapel on the BVU campus at 5:30 p.m.  Guest conductors for this year's festival will be Dr. Mark Heidel  for the high school honor band and Kim Benson  for the middle school honor band.  The finale concert is open to the public and admission is free. Gayle Strom is the music educator for St. Mary's School.