Harry Stine… founder and owner of Stine Seed… spoke at Sioux Central High School Tuesday as part of the Business Leadership series.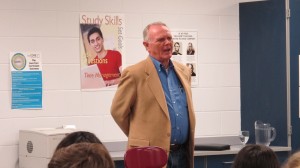 Stine, a farmer and seed genetics entrepreneur shared his success story which included having dyslexia and autism and not letting that limit him in his endeavors. He discussed how patents and intellectual property have protected his research but patents weren't available on self-populated crops until the 1990's.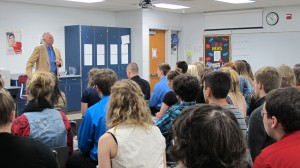 Stine stated Sioux Central is only the second high school he has ever spoken at. Next month he will be speaking at a conference in China along with Henry Kissinger. Stine spoke and had a question and answer period to interested juniors and seniors in the morning for an hour and a half, then had lunch with the crop production students. In the afternoon, he spent time with the biology students who are currently studying genetics. His visit was a result of an assignment in the Business Communication class where Cassidy Tripp researched and wrote him a business letter and asked him to come to the school.
Stine told the students that the most important things he looks for in employees is ambition, confidence, and then their educational background. He stressed the importance of taking a variety of classes in high school as one doesn't know where their future lies. His most important class was business law as that is where he learned about patents.