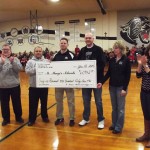 Record check-amount presented this year at Homecoming.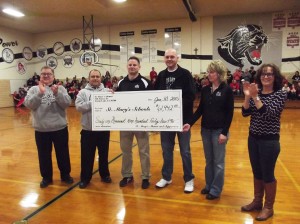 The Storm Lake St. Mary's High School Alumni Association presented a record 61-thousand-942 dollar check to the school during the homecoming basketball games last Friday.
The check is ten-thousand dollars more than the 2014 homecoming presentation. The funds will be used to operate the school, and were raised through the St. Mary's Annual Appeal. Donors included alumni, parishioners, staff, clergy, grandparents, and friends of St. Mary's School.