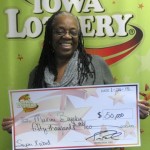 A Storm Lake woman has won a 50-thousand dollar top prize in the Iowa Lottery's "Super Crossword" instant scratch game.
67-year-old Maxine Bagsby purchased her winning ticket at Al's Liquor in Storm Lake. She ended up scratching off ten complete words to win the 50-thousand dollar prize. Bagsby retired in December of 2013 after working 24 years for the Illinois Department of Human Services. She said she plans to share her lottery winnings with her family.
"Super Crossword" is a five-dollar scratch game. Twelve more top prizes are still up for grabs in the game.